australia
After an unwanted advance on LinkedIn, Layla has given up on the networking platform. She's not the only one
Layla* was just 18 when she stopped using LinkedIn after what she said was an "uncomfortable" encounter.
Warning: This article is about sexual harassment
Most important points:
People in Australia and abroad are calling out sexual and romantic advances on LinkedIn
LinkedIn incorrectly said a reported incident does not violate Community Policybeleid
Migrant women are often less likely to report cases of harassment in a work environment
In 2019, at a university networking event, she came into contact with someone on the social media platform through the 'search nearby' option with the intention of building her professional connections.
"Previously I thought it was pretty harmless, nothing to worry about," Layla said.
After making contact with the man, she felt that she was starting to build her network.
"He just messaged me saying he thought I had some really cool ideas and wanted to get to know me further," she said.
After they continued talking, she realized he wasn't interested in getting to know her professionally, but was "more interested in knowing" [her] romantic," she said.
He started complimenting her looks when they met in person and she felt like "he didn't want to leave her" after they met for dinner.
"I wanted to get out of there as soon as I was in it," she said.
As social media networking apps become more popular, more and more women are coming up with horror stories, and experts say some users' behavior has become a real problem.
Migrant women more vulnerable to harassment at work
Layla called her sister to try and get out of dinner, but this led to the "most uncomfortable experience".
"I spoke Arabic, and I felt like he completely exoticized my language and said 'oh, that's so sexy,'" she said.
"When we actually left the train station, he said 'bye habibi,'" she said.
Habibi means "my love" in Arabic and is often used as a sign of affection.
Since the meeting, Layla no longer saw the platform as a professional website, although it was really the only way to develop her connections, as a first-generation migrant.
"I am very driven to build my career. I am not privileged to have a father who knows someone in the industry who could help me get me into something like urban and regional planning," she said .
"Both my parents are workers and don't have that kind of white-collar connection.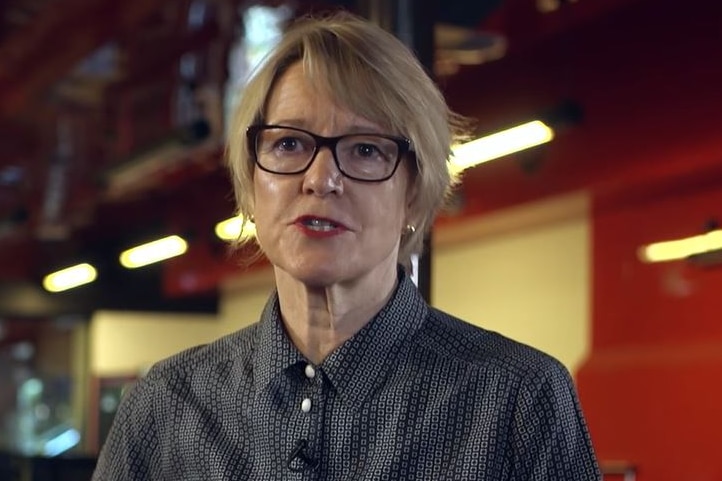 Sara Charlesworth, a professor of work, gender and regulation at RMIT University, said migrant women are particularly vulnerable to advancement in a work environment, including opportunities like LinkedIn.
"Migrant women have long been seen as a vulnerable group in terms of sexual harassment at work," she said..
"Both because they are the target of sexual harassment and are also much less likely to report or complain."
Calling unwanted advances on LinkedIn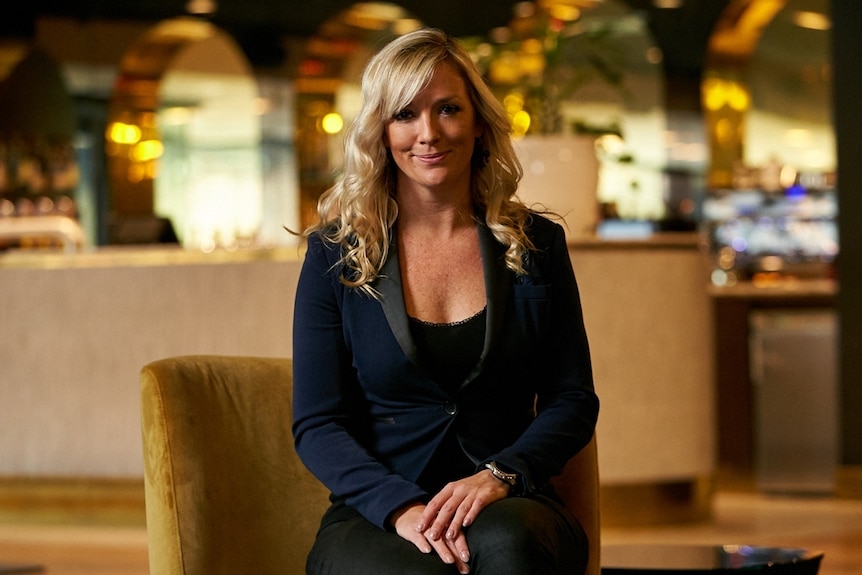 Over the past month, there has been a growing conversation about unwanted developments on LinkedIn in Australia.
When Nadia Owen, Meetings and Special Events Sales Manager, received a message from a man complimenting her eyes, she knew it was time to call him.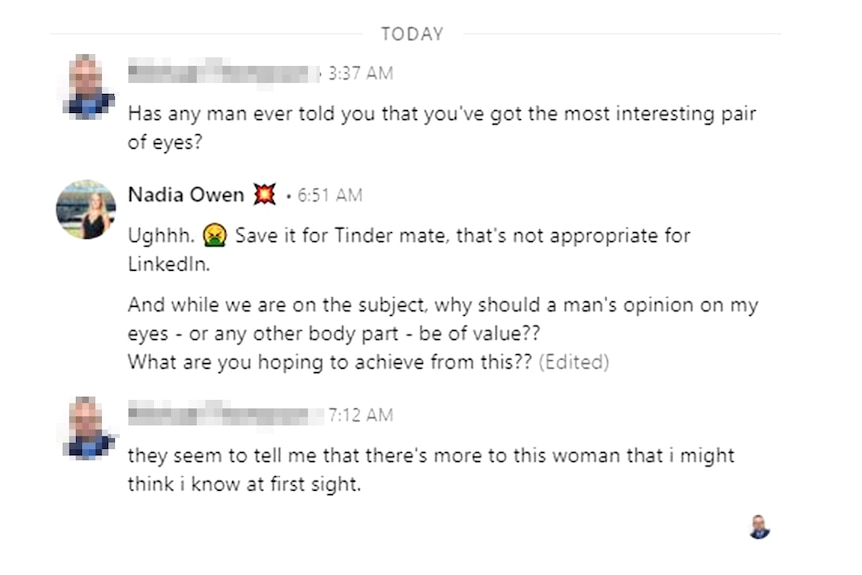 "It just annoyed me and it's one of those things where you just roll your eyes and you just go 'seriously, this isn't the platform for this,'" she said.
"The beauty of the post is that it clearly resonates with thousands and thousands of people, both women and men, who say that times have to change and people have to change with the times."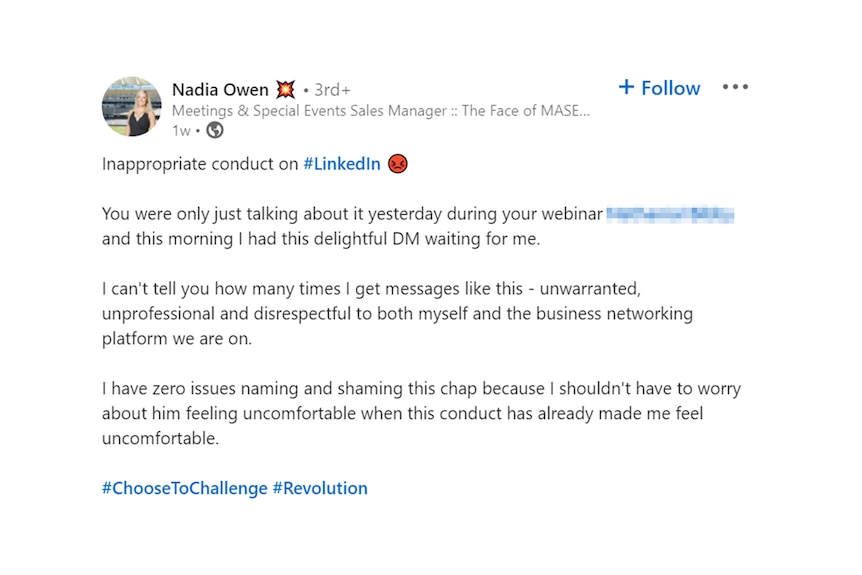 This wasn't the first time she's gotten this kind of attention through LinkedIn.
"It's happened many times before on LinkedIn, and they can range from seemingly innocuous comments about your appearance to completely unbelievably disgusting pictures or phrases or suggestive wording," she said.
With recent discussions about workplace culture fueled by Brittany Higgins' allegations of sexual assault in parliament and Grace Tame winning Australian of the Year for speaking out about sexual abuse, Ms Owen said she wants to contribute to the conversation.
"Usually you just delete it, ignore the person and block them and move on with your life, but on this particular occasion I chose to push back and ask questions," she said.
"It's a business-to-business platform. It's not appropriate for people there to do anything other than that."
'Nothing done' on LinkedIn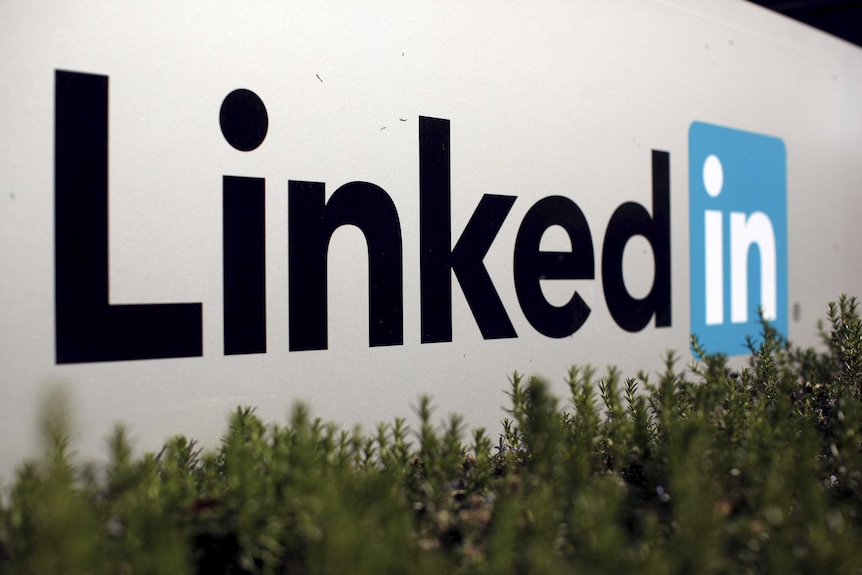 According to LinkedIn's Professional Community Policy, users are instructed to "be professional" and "not to deal with unwelcome advances."
"We do not allow unwanted expressions of attraction, desire, romantic relationship solicitations, marriage proposals, sexual advances or innuendo, or lewd comments. Do not use LinkedIn to pursue romantic connections, solicit romantic dates, or make sexual commentary on someone's appearance," the policy states.
Ms. Owen has reported inappropriate encounters on LinkedIn, saying she only received a "very general statement" and nothing was done.
This includes her most recent incident where they said "it did not violate our professional community policy".
"LinkedIn's response is a byproduct of the world we currently live in, so I'm not surprised they didn't see it as a problem," she said.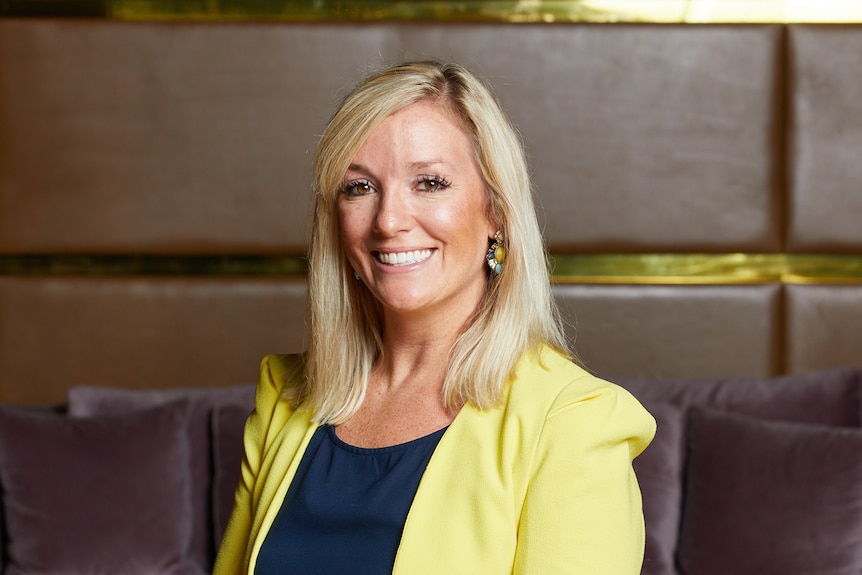 A LinkedIn spokesperson told ABC: "Upon investigation, we found that the member received a message 'it did not violate our Professional Community Policy' due to an error on our part."
"Our sincere apologies for the inconvenience to the member.
"We may not always get it right, and if we don't, we'll do a second review and take action quickly."
Professor Charlesworth said there is "a real duty of care that LinkedIn has as a platform".
'Unwanted progress' on LinkedIn is happening all over the world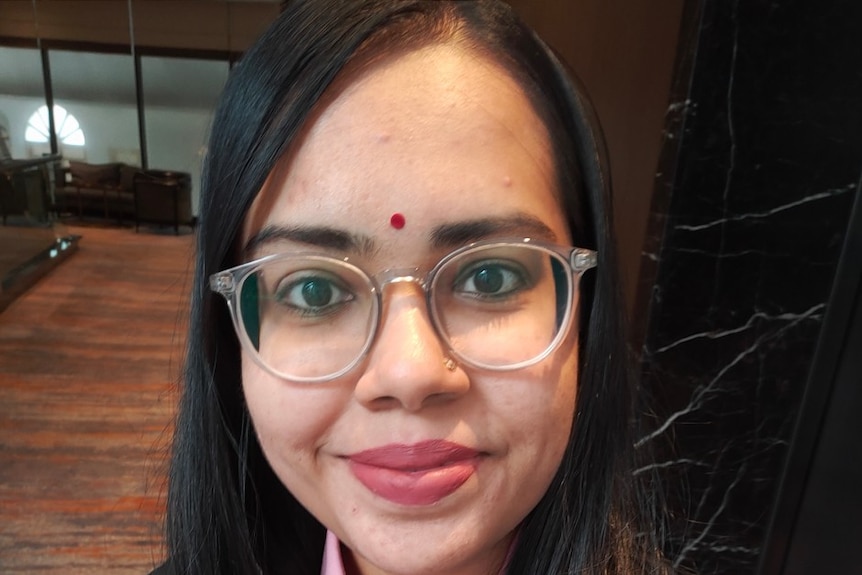 Professionals call on people making progress and flirt with them in countries like India, Pakistan and Malaysia.
According to a survey of about 1,000 Malaysian women last year, 56 percent of women have experienced at least one form of gender discrimination in the workplace.
That included comments or questions about their martial status or plans to start a family, or to perform certain duties not required of men.
Training material developer Nithiyah Sinnathamby is from Seremban, Malaysia and has been using LinkedIn since 2014.
She recently received "junk messages" that felt "unprofessional" and decided to talk about it.
"I wanted to post this experience to raise awareness that LinkedIn is a professional network and you shouldn't abuse it," Ms Sinnathamby said.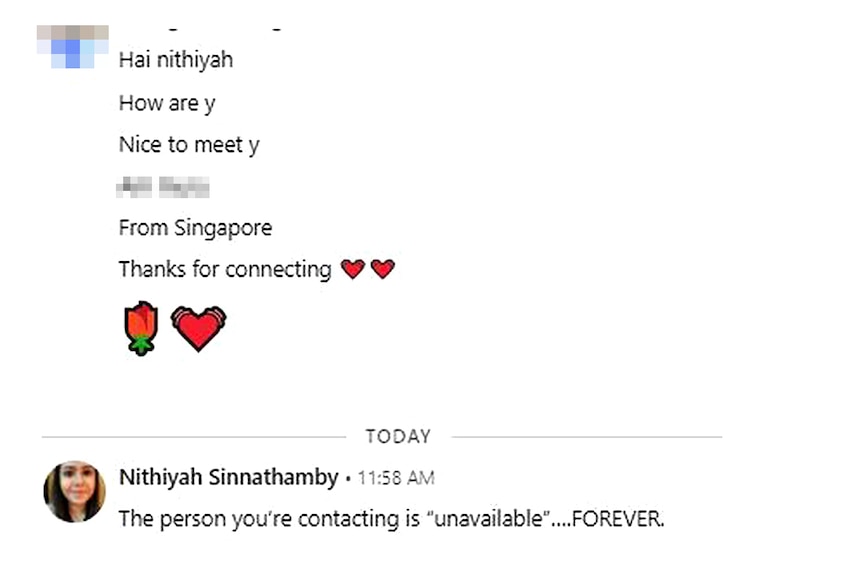 She said this makes her feel "frustrated and annoyed" and doesn't want it to happen again.
"I believe this is happening to other ladies in the network and I would urge them to disclose this kind of approach as well so it doesn't repeat itself," Ms Sinnathamby said.
"We are committed to maintaining a safe, professional and respectful community for our members," a LinkedIn spokesperson told ABC.
"We do not tolerate harassment of any kind and have introduced new tools in this space to keep our members safe. That includes strengthening our community policies to be even clearer about our stance on harassment and romantic advances on LinkedIn.
"We encourage all members to let us know if something doesn't feel right and we will promptly investigate and take action to enforce our policies.
"We know there is work to be done."
* Layla is a pseudonym used to protect her identity.
.