australia
'Grow up': Olympian's Q+A plea to Australia's politicians over COVID response
Prime Minister Scott Morrison finally said "sorry" for the slow rollout of the vaccine in Australia on Thursday, but it still wasn't enough for Q+A panelists.
Most important points:
Bill Shorten called on Prime Minister Scott Morrison to give the nation a roadmap out of the current COVID situation
Panelists supported Brisbane to host the 2032 Olympics and Queensland Prime Minister Annastacia Palaszczuk
Questions were raised about how vulnerable Australians in care homes were still not fully vaccinated
With more than 13 million Australians in lockdown as the Delta variant continues to spread across New South Wales, Victoria and South Australia, the panel was asked what the government can do to help Australians through this period and whether politicians actually can occur in a twofold manner.
Olympic gold medalist Libby Trickett, who previously revealed she was taking antidepressants during the pandemic and received her first Pfizer shot despite being under 40 and not targeted for the vaccine rollout, called on politicians to really show leadership to get Australian out of his current situation
"I just really want our politicians, the people in power and responsible for taking care of our communities, to take care of us and actually do the work that we've asked them to do.
"It feels so much like the responsibility and the burden that has been placed on states and on individual communities.
"We are the ones who have to stay at home and go into lockdown and do all these things.
"I just want the states and the federal government to come together and actually come up with a clear, concise plan."
Former opposition leader Bill Shorten agreed when he called on the federal government to clearly communicate its plan to Australians.
"I think we deserve to hear where the finish line is at a national level," said Mr Shorten.
Loading
"There are 13.5 million people locked up, businesses screwed up, it's hard on families, there's mental health trauma.
"Where is the finish? When can we finish the lockdown?"
He also called on longtime political rival Morrison to lead by example.
"The doctors have done their part, the scientists have done their part.
"The people are doing their part now, it is now time for the government to act."
Concept of vaccine hesitation questioned
The comments came in the wake of a discussion about vaccine rollouts in the country, when podcaster and disability advocate Astrid Edwards addressed the failure to effectively vaccinate people in care homes.
Ms Edwards discussed the news that three residents of a disabled community had contracted COVID and had each received only one dose of the vaccine.
She wanted to know how that was possible or how emergency workers might not be vaccinated.
Regional Health Minister David Gillespie blamed both the "vaccine reluctance" and the initial shortage of vaccines around the world on Australia's low vaccination coverage.
"With Pfizer and with AstraZeneca, all production in America stayed in America," said Gillespie.
"They were screaming for it in Europe and we were kicked out.
"They saw how safe and well we were on the road in Australia… the health system was overwhelmed all over the world and we were at the bottom of the world in a really good place."
V+A presenter Virginia Trioli said Australia had squandered that opportunity before Trickett suggested the minister was not being completely honest.
"I think the majority of people in my age group, who are under the age of 40, who have no medical conditions and are not in any of the priority groups, are excited.
"We want to be vaccinated.
"I got my Pfizer vaccination yesterday, my first dose, I'm not qualified for it and I don't really know how I managed to get it.
"And I know there are people in retirement homes who still haven't been vaccinated.
"And there are people who are in those priority groups who haven't been vaccinated that I'm sure are very excited and very willing."
'Diplomatic insult' if Palaszczuk was not present at opening ceremony
Brisbane also won the hosting rights for the 2032 Olympics, but how much that should be celebrated in the current environment has been questioned.
Loading
Viewers again questioned whether it was imperative for Queensland Prime Minister Annastacia Palaszczuk to fly to Tokyo, but especially why Australian politicians seemed to prioritize sports over other things during a pandemic.
The panel acknowledged that it could be difficult for Australians in lockdown to see Ms Palaszczuk go to Japan, despite calling for cuts to return flights to Australia.
Mr Shorten sympathized with those who criticized his Labor colleague but hinted she was not to blame.
"We have Australians abroad who can't go home and I think that's a shame," said Mr Shorten.
"In this country we have not handled the COVID-19 outbreak as well as we could have and as a result Australian citizens abroad have been unable to go home for legitimate reasons and yet you have other people who jump in and out .
"I understand why people feel like it doesn't feel right.
"As for Annastacia Palaszczuk going to Tokyo, we still have to do the day-to-day work.
"For people who have canceled weddings or who can't see their families or postpone operations, I can understand why the perception of a double standard would be deeply disappointing."
The situation with Ms Palaszczuk turned again on Thursday when she was told to attend the opening ceremony at a press conference by Australian Olympic Committee (AOC) president John Coates in a press conference for world media.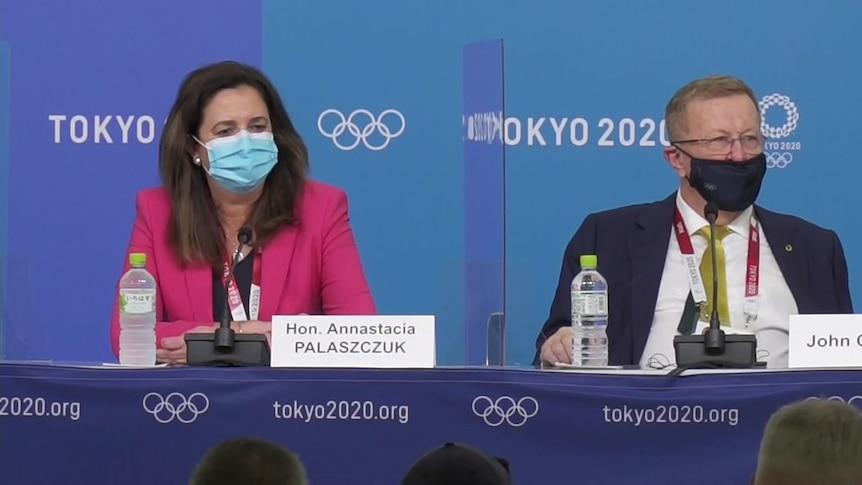 Trickett said the Premier of Queensland was simply in a difficult situation due to the unprecedented nature of dealing with COVID.
"I think she thinks she did the right thing maybe not going to the opening ceremony because a lot of people are a little upset that she went to Tokyo for the Olympic bid," Trickett said.
Mr Gillespie defended Ms Palaszczuk and described Coates' behavior as "a little menacing".
"I certainly wouldn't have spoken to the Premier of Queensland like that," he said when asked about Mr Coates' comments.
"The manner and tone seemed a little menacing to me, a schoolmaster talking to a student.
"The politics and the optics are not good but I agree with him that certainly the Prime Minister and Mayor of Brisbane and I expect Senator Colbeck (Sports Secretary Richard Colbeck) will probably be there too.
"However, the actual presence at the opening ceremony is very fitting.
"We just won the Olympics and have been involved in a long bidding process.
Watch the full episode on iview or via the Facebook page.
.